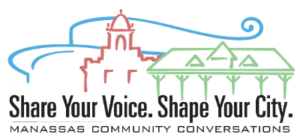 The City of Manassas is holding a series of "Community Conversations" to gather ideas, priorities, and visions for the community's future from individuals, families, neighbors, business professionals, and community leaders. This is your opportunity to shape Manassas by sharing your perspectives and providing input on key topics such as quality of life, services, transportation, land use, and economic development.
This community engagement process follows up on the City's 2014 and 2016 community surveys, in which the following 10 community priorities were identified in order of importance.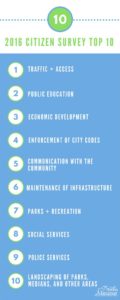 The following engagement sessions remain:
Thursday, Sept. 7, 2 PM – Active Adults & Seniors
​​​Manassas Senior Center Board Room / 9320 Mosby Street ​​
​
​Thursday, Sept. 7, 6PM – Families ​ ​
​Manassas Museum / 9101 Prince William Street ​
​
​Thursday, Sept. 21, 6 PM – Twenty & Thirty Somethings
​​​Bad Wolf Brew House / 8420 Kao Circle ​​ ​​​​
​
​Saturday, Sept. 23, 2PM – Everyone! ​
​Grace Methodist Church Fellowship Hall / 9750 Wellington Road
You can also engage with City staff at the farmers markets in downtown Manassas on September 16 and 28 and October 21 and 26.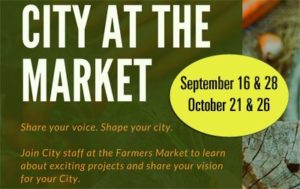 In addition, you can participate online through the City's new online engagement portal!
The Community Conversations will dig deeper into the "why" of the top priorities to find location-specific issues and gauge if any priorities are missing from the list generated by the survey. The findings from both the survey and the Community Conversations will assist the City in updating its strategic priorities and comprehensive plan. Join the conversation!