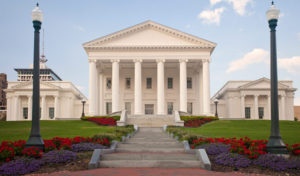 Active Prince William board member Allen Muchnick delivered the following personal statement to the Prince William Delegation to the Virginia General Assembly on January 9, 2021.   Some of the comments below have not been officially endorsed by either Active Prince William or the Virginia Bicycling Federation.
---
Statement to the Prince William Delegation to the Virginia General Assembly January 9, 2021, by Allen Muchnick, Manassas Resident
I'm Allen Muchnick, a City of Manassas resident. I've been a board member of the Virginia Bicycling Federation since 1994 and co-founded Active Prince William five years ago.
Both organizations seek safer and more pleasant walking and bicycling and improved justice for pedestrians and bicyclists injured by negligent motorists.
Thank you for passing a wide range of long-delayed progressive legislation in 2020.  We sincerely appreciate the just-implemented ban on using handheld electronic communication devices while driving a motor vehicle, requiring motorists to stop—not merely yield—to persons in crosswalks, establishing a traffic infraction for motorists who negligently injure a pedestrian or bicyclist, and authorizing automated speed cameras at schools and highway work zones.
Legislative changes that we support for the 2021 session include 1) expanding the authorization for automated speed cameras to include residential and business districts, 2) allowing localities to impose urban speed limits below 25 MPH in residential and business districts, and 3) lessening contributory negligence limitations for pedestrians and bicyclists injured in traffic crashes.
We also seek three changes to Virginia's bicycling laws to increase the safety, comfort, and ease of bicycling.   The bicyclist safety stop would allow bicyclists to treat stop signs as yield signs as long as they yield to all closely approaching cross-traffic.   Stop signs are often installed in lieu of yield signs due to the danger of rolling stops by motorists and as a neighborhood traffic-calming measure. Because bicyclists are generally slower and not inside a vehicle, they can more readily observe and yield to cross-traffic without fully stopping. When bicyclists fully stop their balance is unstable, their effort is greater, and they take longer to clear intersections.  Thus, bicycling injuries have been found to decrease after states have implemented the bicyclist safety stop.
Two related changes would allow bicyclists to ride two abreast at all times and prohibit motorists from passing bicyclists within the same travel lane.  Motorists rear-ending or side-swiping bicyclists is a major cause (ca. 40%) of bicycling fatalities.  Bicyclists riding two-abreast are much more visible to following motorists.  Requiring motorists to execute a full lane change before passing a bicyclist is more understandable to drivers and much easier for police to enforce.
Please ensure that state-funded Potomac River crossing expansions at the American Legion Bridge and at the Long Bridge include substantial bicycle and pedestrian elements, that standalone bicycling and walking improvements are fully eligible for all relevant state and regional transportation funding programs, and that the ban on Sunday hunting on public lands is preserved.  
Thank you for your service and best wishes for a productive legislative session.
###