On March 15th, the Prince William County Board of County Supervisors voted to remove the Bi-County Parkway from the County's Comprehensive Plan. Unfortunately, along with it goes one of only a few planned shared-use trail crossing of Interstate 66 (I-66). Options to replace the trail crossing in the comprehensive plan may soon be considered by the County Planning Office.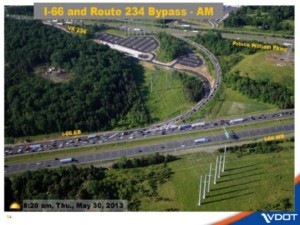 Active Prince William supported Supervisors' vote, as the Bi-County Parkway would have negatively impacted the protected Rural Crescent and increased truck traffic through Prince William County, while primarily benefiting Loudoun County and the Dulles Airport Authority (more background on the Bi-County Parkway). But the now-defunct Parkway did include one key benefit for Prince William residents: the plan called for a shared-use trail along its entire length, opening up a significant area for recreation to many Western Prince William County residents, and providing a key crossing of I-66, which is a significant barrier to bicylists, hikers, and walkers in the Manassas National Battlefield Park and the surrounding area. Now plans need to be updated to replace the shared-use path crossing of I-66 that was lost with the removal of the Bi-County Parkway.
Options to replace the Bi-County shared use path crossing of I-66 may soon be considered by the County's Planning Office as part of a technical update of the County's trails and non-motorized transportation portions of the Comprehensive Plan, or during the Transportation Chapter update that will begin in the next year. The Prince William County Trails and Blueways Council (TBC) has discussed adding Groveton Road to the Comprehensive Plan as an I-66 crossing along with the addition of proposed bicycling improvements for Pageland Lane, a partly unpaved road that parallels I-66 West from Groveton then turns North where the Bi-County Parkway would have been built (see the map below, key: Bi-County Parkway in Red, Groveton Road in Green, and Pageland Lane in Blue).
The only existing safe crossing of I-66 along the approximately 10 mile stretch from the Fairfax County line to Route 15 is located at University Blvd (see map below). Other planned crossings are currently unsafe for people walking or biking, and include:
Sudley Rd (Rt 234 Business)
Catharpin Rd (under construction)
Old Carolina Rd (bridge updated)
Rt 15 (under construction)
VDOT has suggested 2 additional bicycle/pedestrian I-66 crossings as part of its future I-66 Outside the Beltway expansion project, under the I-66 overpass at Bull Run and at Groveton Rd. To see the full VDOT I-66 Trail plan, click here. Both of these VDOT proposed trail crossings have been discussed by the TBC, but are not currently in the PWC Comprehensive Plan.
NOTE: Even though PWC is removing the Bi-County Parkway from its Comprehensive Plan, VDOT and others still have plans for the Bi-County Parkway. So, it isn't necessarily "dead"… yet.