What a nice surprise when I opened my email and found that I had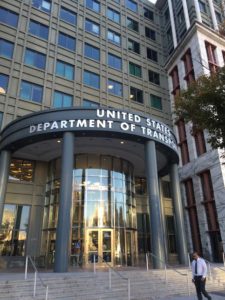 been invited to attend the inaugural "Every Place Counts Leadership Academy" hosted by U.S. Transportation Secretary Anthony Foxx. As an advocate of walking, biking and transit in my community, and at George Mason University, I was very excited by the opportunity to learn more about how transportation decisions are made and how community members can get more involved in the process.
Transportation decisions shape our lives and connect our communities. Transportation also directly affects our health and well-being. Yet members of the public often struggle to figure out how and when to engage in these important decisions. The fact that the Secretary of Transportation was going to attend the session sent a powerful message that he truly valued the input of community members in the transportation decision making process.
Transportation Secretary Foxx is a believer in the power of transportation to increase opportunity for all, but also knows that community members need to be more included in the process.  He initiated the "Every Place Counts: Leadership Academy" to demystify, clarify and simplify transportation decision making. The Leadership Academy is geared toward future community leaders who have limited experience with transportation decision making, and want to learn how to participate effectively and add their insights to the process. The Academy also featured a Transportation Toolkit
designed to convey information to the widest audience possible.
What I enjoyed most about the academy was the opportunity to meet people from all over the country and hear their about their experiences advocating for accessible and affordable transportation – the advocate from Baltimore who talked about transportation and access to jobs, the advocate from the Boston area that talked about safe infrastructure for children to walk and bike to school, the advocate from California who talked about transit and the access to healthcare for the elderly, the high school STEM student from Falls Church who talked about technology and transportation, and the advocate from Philadelphia who talked about how important it is to get stakeholders from the community involved in the planning and design process.
This was probably the most diverse group of advocates I have had the privilege of interacting with during my years of advocating for accessible and sustainable transportation. However, what everyone had in common was a passion to create livable communities, and advocate for access to reliable and affordable transportation.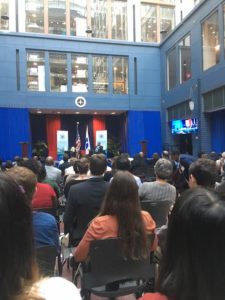 Where you choose to live impacts the mode(s) of transportation you use to get to work, but regardless you still have choices you can make. When I moved to Prince William County I was told that the only option to get to work at Mason in Fairfax was to drive.
Being the curious person I am, I decided to check the validity of this statement. Of course I relate this back to the book club I participated in focused on the Todd Kashdan's book, Curious. Kashdan asks, "What is essential to creating a fulfilling life? Being curious, being open to new experiences, being able to effectively manage ambiguity and uncertainty, being able to adapt to the demands required of different situations (what I call "psychological flexibility"), discovering our strengths, deepest values, and what it is we are passionate about, and strengthening connections to these values and commit to a life aligned with them."
An acquaintance of mind once said that, "life beings at the end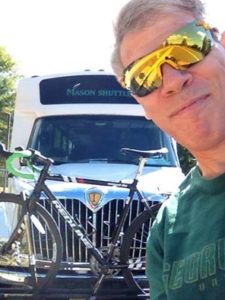 of your comfort zone." Being curious and wanting to step out of my routine I found that there were actually multiple ways to get to work:
Bike to the Fairfax campus (I make the 20 mile ride several times a year, takes about an hour and 1/2)
Bike (4 miles) to the SciTech campus and take the Mason shuttle to the Fairfax campus (what I do 90% of the time)
Take an Express Bus to Tysons Corner metro and then metro to Vienna and take the shuttle to campus (a longer trip due to the changing modes, I have tried once but not the best option)
Take the Virginia Railway Express (VRE) to the Burke Centre VRE station and take the Mason shuttle to campus (I have tried this and it is a great way to travel, variations include bike, carpool or drive alone to the VRE station)
I can check out the ZimRide site and connect with a Mason student, staff or faculty member who might want to carpool to work
Telework from the SciTech campus using one of the drop in suites
Drive alone (85% of Prince William residents drive alone to work and sit in traffic on I-66/I-95)
Of course you might be thinking what do I do if I have an emergency and need to get home quickly, or what if the weather turns bad and I can't bike home? These are valid concerns but Commuter Connections has you covered.  "Guaranteed Ride Home (otherwise known as GRH) provides commuters who regularly (twice a week) carpool, vanpool, bike, walk or take transit to work with a FREE and reliable ride home when one of life's unexpected emergencies arise. Commuters may take advantage of GRH up to four times per year to get home for unexpected emergencies such as a personal illness or a sick child" (http://www.commuterconnections.org/commuters/guaranteed-ride-home/).
Transportation affects all areas of our well-being to include physical, social, career, financial and community well-being. By starting off, and ending, my day with a four mile bike ride I get 30 minutes of exercise almost every day. On the shuttle I often talk to other members of the staff and faculty, read a book, check my social media and email accounts, or just take a nap. I find that biking to transit keeps my stress levels low, I am more alert and ready to get the day rolling when I arrive at work.
Being enrolled in the Mason bike commuter program and riding the Mason shuttles provides financial benefits. I don't need a parking pass, I am not using my car, when I ride at least eight times to campus each month I get a $20 voucher good for bike maintenance, and I also receive two complimentary parking passes. As a bike advocate I am very involved in the community promoting active transportation (walking/biking), transit and outdoor recreation. I belong to several community groups including Prince William Trails and Streams Coalition, Active Prince William and the Virginia Bike Federation. Being involved in these groups has helped me meet more people and create strong social relationships with members of the community and government officials.
The health benefits of regular physical activity (biking and walking) are far-reaching: reduced risk of coronary heart disease, stroke, diabetes, and other chronic diseases; lower health care costs; and improved quality of life for people of all ages. Regular exercise provides health benefits for older adults such as a stronger heart, a more positive mental outlook, and an increased chance of remaining indefinitely independent—a benefit that will become increasingly important as our population ages in the coming years.
Walking and bicycling are affordable forms of transportation. Car ownership is expensive and consumes a major portion of many Americans' income. When safe facilities are provided for pedestrians and bicyclists, people can walk and ride more and spend less on transportation, meaning they have more money to save or spend on other things.
The cost of operating a sedan for one year in 2013 was approximately $10,374 (AAA, Your Driving Costs).
According to AAA and the 2008-2012 American Community Survey, ownership of one motor vehicle accounts for 19.5 percent of a typical household's income.
The cost of operating a bicycle for a year is only $308 (League of American Bicyclists).
An eight-year study of Atlanta communities suggests that a two person household in a walkable community saves over 260 gallons of gas annually. If gas is $3.25 per gallon, that is over $850 in savings.
Walking is free (well maybe you might want to buy a good pair of walking shoes for $50-100)
Benefits of Walking/Biking (from the Pedestrian and Bicyclist Information Center http://www.pedbikeinfo.org/data/factsheet.cfm)
I have found that how we design our transportation network, and what transportation options are available to us, can have significant impacts on our quality of life. Research on transportation options consistently shows that people who walk and bike to work are the happiest with their commute.
A well designed transportation network with more transportation options can create a strong sense of community.  People walking, biking and taking transit have more opportunity for social interaction and interacting with the community they are moving through. In Happy City, Charles Montgomery talks about the dividend we get when we choose to reside in a livable community with sustainable transportation choices.
We all make our own choice about how we commute to work. You may choose to drive alone but it is your choice. Trying out a new mode of transportation to get to work can have healthy benefits. If you think you have no choice maybe it is time to get involved as an advocate for a better transportation network in your community.
Starting out the New Year I will be using my new knowledge to facilitate local leadership academies that educate, and inform, community members on how they can get involved in the transportation planning and design discussion. Get involved, make a difference, and enhance your well-being.