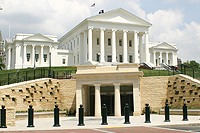 Prince William County 2017 General Assembly Public Hearing
The Prince William County Delegation to the General Assembly is holding a joint pre-2017 General Assembly Session public hearing for local residents to relate their concerns.  All Prince William County, Manassas City, and Manassas Park residents and organizations are invited to attend and speak.
This is an ideal opportunity to ask our state legislators to improve the livability and vitality of our communities by making active transportation more accessible, pleasant, and safer.   For example, the Commonwealth might: 1) increase funding to adequately maintain VDOT's existing pedestrian and bicycle facilities and expand local bus service; 2) eliminate major barriers to bicycling and walking, such as across I-95 in eastern Prince William County; 3) fund improved bicycle  parking facilities at VRE stations, park-and-ride lots, and major bus stops, and/or 4) pass legislation to reduce distracted driving and hold motorists more accountable when they kill or permanently injure others by their negligent driving.
As a Prince William area resident, you likely know additional ways that the Commonwealth of Virginia could make bicycling, walking, and/or transit use more viable in our area.  This annual pre-session hearing is a key opportunity to advance active transportation in our communities.
Prince William County 2017 General Assembly Public Hearing
Saturday, January 7, 2017
3 p.m. – 5 p.m.
James J. McCoart Administrative Building
1 County Complex Court
Woodbridge, VA 22192
Participants are asked to respect these guidelines:
All participants speak only for three minutes
Sign up once
Each participating organization may only have three speakers
Participants should bring 15 copies of all materials for the PWC delegation
All speakers be on time
If you are interested in addressing the Prince William County Delegation regarding your concerns for the General Assembly Session, please sign up using the link provided: